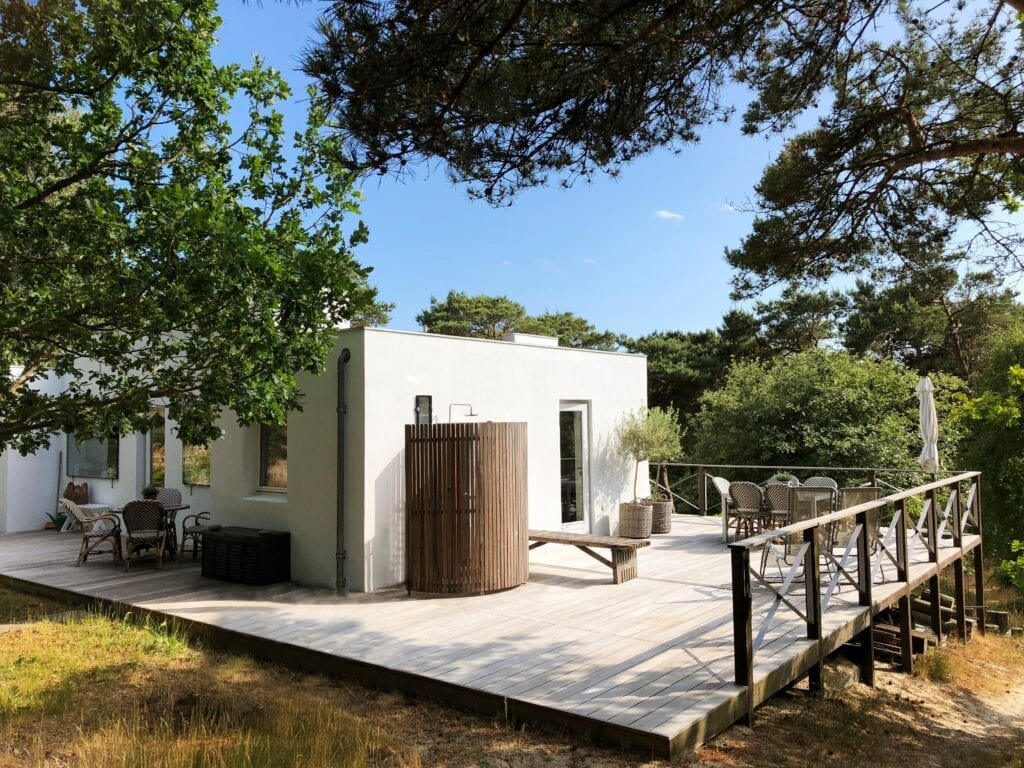 It's no secret that we have a deep connection to Bornholm. It was on the rocky island that we designed and produced the prototype for our outdoor shower a few years ago in collaboration with local suppliers. And it's still there, ready to receive visitors from the summer vacation-loving Danes who will be flocking to Bornholm for their holidays in the coming months.
Behind the design is Mads Bilenberg and his parents Ivar and Elly Bilenberg, who a few years ago had the outdoor shower produced for their architect-designed summer house, which is located in scenic surroundings at Boderne on Bornholm.
How to book a viewing
We have already had a lot of people interested in our showroom in Dragør over the past month, but now you can kill two birds with one stone if the summer offers a visit to Bornholm.

Book a viewing on Bornholm:
Ivar Bilenberg and Elly Bilenberg show.
Booking on 31 39 38 77 / info@nordicseashell.com

Book a viewing in Dragør:
Mads Bilenberg or Thomas Wisborg showcase
Booking on 31 39 38 38 77 / info@nordicseashell.com

What is included?
The shower solution from Nordic Seashell is delivered directly to your door - and includes a shower system/fixture from Oras. And then there is free shipping. That is, right now you can order the whole thing for DKK 24,000 all inclusive. If you want to opt out of the shower system, we will automatically deduct the price (our purchase price) if you enter the discount code nejtaktilbrusesystem when ordering in the webshop. See also more specifications and photos.
Behind the Nordic Seashell outdoor shower
The ambition behind Nordic Seashell is to create a complete shower solution where design, functionality and durability come together. This mix is not easy to find today if you are looking for a product for the summer house or garden, where you can take an undisturbed outdoor bath. 
In other words, it is almost impossible to find design products where shielding is an integral part. Nordic Seashell is inspired by the nature of Bornholm and the almost superior strength and beauty of seashells. 
The product is a stylish design produced in collaboration with local suppliers from Bornholm. The conch-shaped frame is made by the machine factory Trio Nexø in acid-proof stainless steel. And Østerlars Savværk has processed the wooden slats, which are made of durable and sustainable (PEFC-certified) natural wood (Scots pine) from forests in Finland - close to the Arctic Circle. 
Due to the cold, trees grow particularly slowly in these latitudes. This makes the wood particularly hard-wearing in all weathers and therefore requires minimal maintenance.

Our reviews on Trustpilot

Contact
Feel free to call us - even after work and at weekends - on 31 39 38 77. Or by e-mail info@nordicseashell.com

Order :
Nordic Seashell Outdoor Shower