Nordic Seashell is deeply rooted in Danish design and inspired by the almost superior aesthetics, functionality and durability of conch. Quality materials and good craftsmanship are the cornerstones of our shower solution, creating the optimal setting for wellness under the open sky.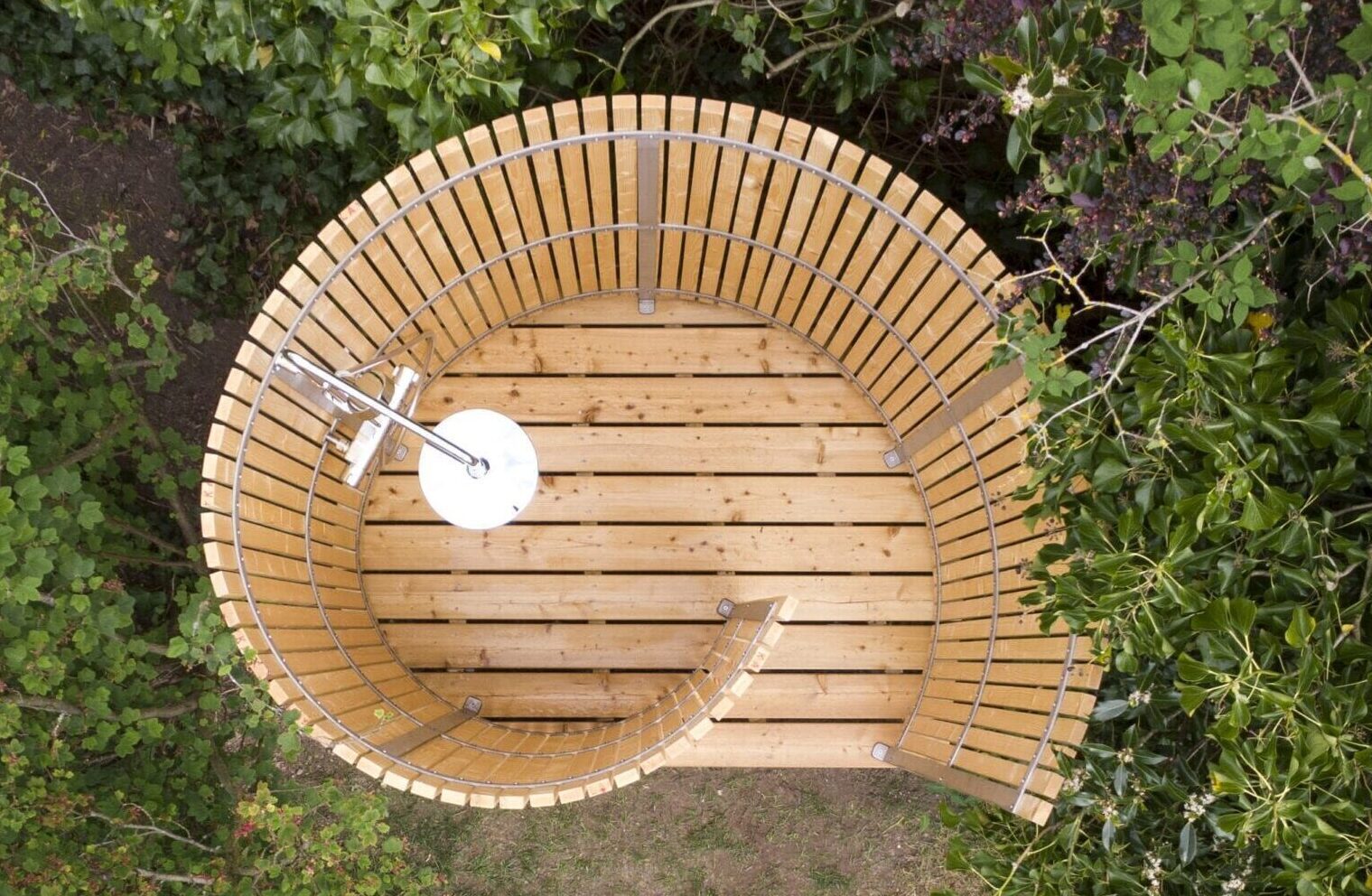 The outdoor shower includes a complete shower system in a beautiful design. Country specifik price inkl. shipping can be calculated at checkout. Current delivery time 3-4 weeks.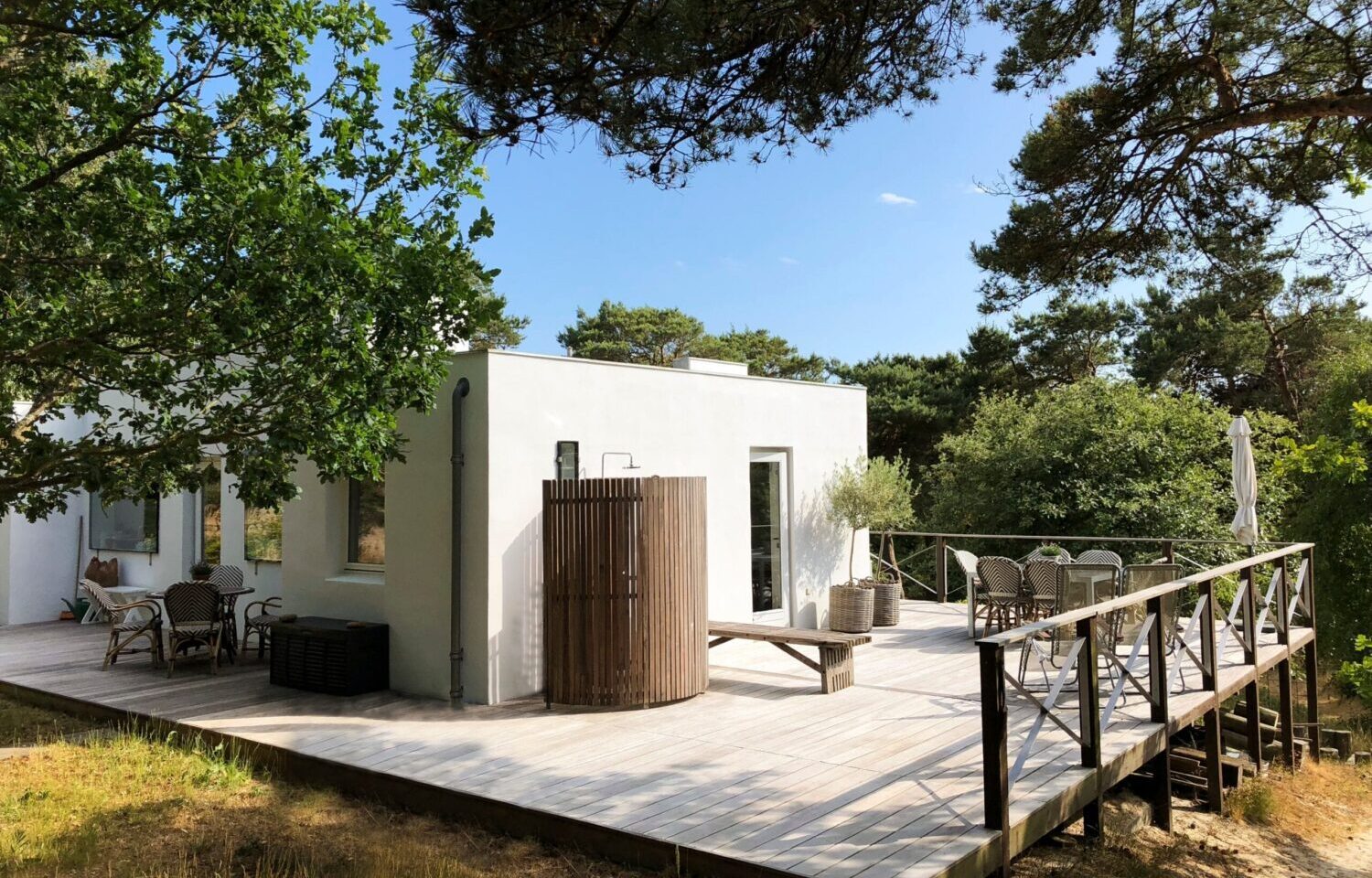 It is difficult to find a design that meets the requirements of quality, sustainability and aesthetics. That's why we created Nordic Seashell.
Our Outdoor Shower in stainless steel is built in cooperation with local manufacturers from Bornholm. We use certified quality wood.
It's easy and safe to shop with us
Pay with credit cards, apple pay and banktransfer.
If there are any problems with the product, you're covered.
You can shop safely in our webshop.
Dedicated customer service
A member of staff is always on hand to help. Even after hours.
A whole new dimension to your outdoor pool
 The Nordic Seashell outdoor shower is a beautiful, stylish and functional Danish design, built by local producers on Bornholm using sustainable and durable natural wood from forests in Finland - close to the Arctic Circle. 
Nordic Seashell in pictures
See our Outdoor Shower from head to toe - and all the way around.
Read our reviews from Trustpilot.
Straight from the beach, pool or wilderness bath - and then into the hot shower. Take a trip past the conch as it looks newly installed in a holiday home on the South Sea islands.

Please contact us if you would like to book a viewing in our showroom in Dragør or on Bornholm.

Info@nordicseashell.com / +45 31393877
Outdoor shower from Bornholm
Bornholm is not only one of Denmark's most beautiful areas. The sunshine island is also versatile in so many different ways in terms of culture, nature and activities. The Nordic Seashell outdoor shower reflects our love for Bornholm.
Who doesn't love being outdoors in summer - and taking a nice bath in the open air. Whether it's in the garden or the cottage? But it's not easy to find an outdoor shower with a screen that meets our high standards of sustainability, durability, functionality and aesthetics. That's why we created Nordic Seashell.
Nordic Seashell is made from sustainable materials of the highest quality. The wooden slats are extremely durable and require minimal maintenance. We use PEFC-certified wood, which comes from forests that are managed in accordance with the strictest environmental, social and economic requirements. 
We work with local manufacturers who build all the elements for our design-protected product. For example, the wooden slats are produced by Østerlars Sawmill with natural wood from pine forests in Finland - close to the the Arctic Circle.
We are deeply attached to the rocky island of Bornholm. Nature has been our great source of inspiration for the design. While the culture, the special Bornholm mentality, has led us to choose local suppliers who are known throughout Denmark for delivering sublime craftsmanship. 
We offer 360-degree customer service.
Contact us: info@nordicseashell.com / +45 31393877
If you have special requests for design and materials, we can certainly help. In cooperation with our skilled suppliers on Bornholm, we also make tailor-made solutions based on your wishes.
Fill out the form below, give us a call or send us an email.
info@nordicseashell.com / + 45 31393877
Do you have any questions? We have answers
We have gathered the questions we get asked the most at Nordic Seashell. But don't hesitate to contact us at info@nordicseashell.com or give us a call on +45 31 39 38 77 if you want to know more about anything. 
What's happening in Nordic Seashell right now? Sign up for our newsletter and get great offers, tips and tricks for your outdoor shower and the latest news from us.
<!—-><!—->
<!—->
<!—->
<!—->
<!—-><!—->
<!—->
<!—->
Nordic Seashell now offers screenings in two locations in Denmark. Contact us for booking in Dragør or on Bornholm.
<!—-><!—->
<!—->
<!—->
<!—->
<!—-><!—->
<!—->
<!—->
Less than a year ago, Nordic Seashell was just an entrepreneurial idea between two friends.
Plumbing tips for your outdoor shower
You should always have a licensed plumber come by so you can safely and easily connect water and secure drains.
Before you're ready to take that first shower in the sun, give your local plumber a call. You'll need him to install water and secure drains.
You and your plumber can always contact us if you have any questions about the Nordic Seashell shower solution.
It is always important to turn off the water in winter (drain pipes and hoses) to avoid frost cracked pipes. 
You can always give our plumbing partners a call, who can easily handle the job.
Pure luxury under the open sky
With Nordic Seashell you can easily and undisturbed bathe in the fresh air when the budding spring and the hot summer are just around the corner.

We have taken care to create a stylish design with carefully selected quality materials that provide a natural setting for your outdoor bath.
100% pure quality time and wellness for you!